Pros and Cons of Backup vs. High Availability for Secure Data Protection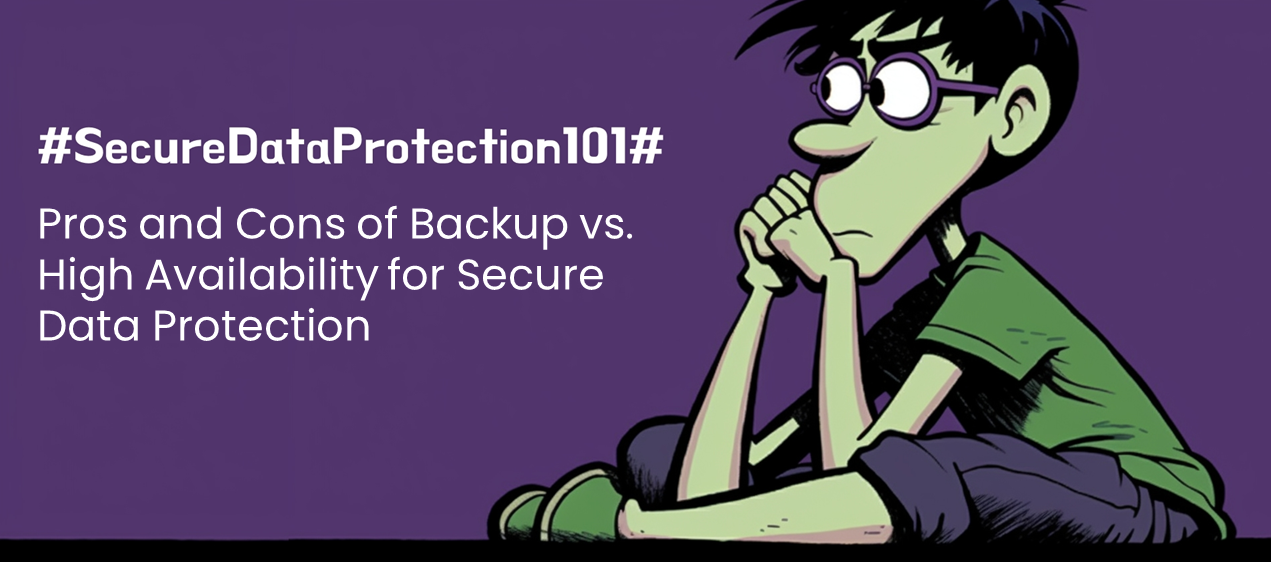 Introduction
In today's digital landscape, secure data protection is paramount for businesses. When considering data protection strategies, two key solutions come to the forefront: backup and High Availability (HA). While both play critical roles, understanding their pros and cons is essential for making informed decisions. In this article, we will explore the benefits of backup and HA, as well as their limitations, to help businesses prioritize their data protection needs effectively. 
Backup and HA are both crucial components of a comprehensive secure data protection strategy, although they serve different purposes and cater to different Recovery Point Objectives (RPO) and Recovery Time Objectives (RTO). 
Backup plays a vital role in secure data protection by creating copies of data and storing them separately from the primary system. It acts as a safety net, allowing businesses to restore data in the event of data loss, corruption, or system failures. Backups are typically performed at regular intervals, capturing the state of the data at a specific point in time. This makes them particularly useful for recovering from incidents that occurred in the past, such as accidental deletions or data corruption that may go unnoticed for some time. Backup solutions often offer features like data deduplication, encryption, and retention policies, ensuring data integrity and long-term storage.
Pros of Backup
Data Recovery: Backup solutions provide a reliable means to recover data in case of loss or corruption caused by hardware failure, accidental deletion, or malicious attacks. This ensures critical data can be restored, ensuring smooth business operations.

 

Historical Data: Backups often retain multiple versions of data, enabling businesses to access previous states and restore specific versions when needed. This feature is valuable for recovering from errors, retrieving older data, or meeting compliance requirements.

 

Cost-effectiveness: Implementing backup solutions is generally more cost-effective compared to high availability systems, as they do not require redundant hardware. Businesses have the flexibility to choose backup strategies that align with their budget while ensuring data protection.

 

Ransomware Detection and Warning (DPX-specific): DPX offers advanced features like GuardMode, providing real-time detection and warnings for ransomware attacks. This proactive defense mechanism adds an extra layer of security to backups, safeguarding against evolving cyber threats.

 

Data Archiving: Backup solutions often include data archiving capabilities, allowing organizations to retain data for long-term storage or regulatory compliance purposes. Archiving ensures data integrity and accessibility over extended periods.

 
Cons of Backup
Recovery Time: Restoring data from backups can take time, especially for large datasets. The recovery process may involve retrieving data from off-site locations or transferring it over a network, potentially leading to system downtime during the recovery period.

 

Storage Space: Backups require significant storage space, especially when multiple versions of data are retained. Managing and scaling storage infrastructure to accommodate growing backup needs can be challenging and costly.

 
High Availability, on the other hand, focuses on minimizing system downtime and ensuring continuous access to critical services. It involves deploying redundant systems, such as failover clusters or load-balanced servers, which are capable of taking over seamlessly in case of a primary system failure. High Availability solutions are designed to achieve near-zero downtime, allowing businesses to maintain continuous operations and minimize the impact of disruptions. They are typically built with redundancy, fault-tolerance, and failover mechanisms, ensuring that any system failure or maintenance activities can be handled without significant interruptions.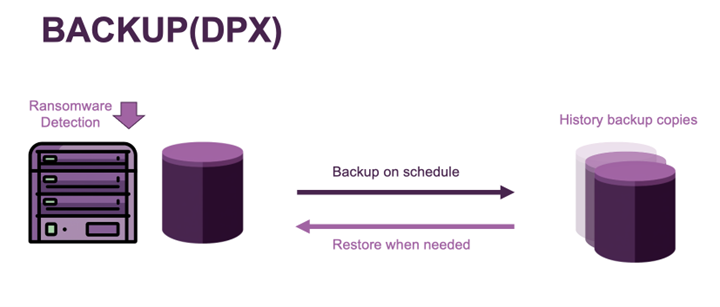 Pros of High Availability
Minimized Downtime: High availability systems are designed to minimize or eliminate downtime by quickly switching to a redundant system in case of primary system failure. This ensures continuous availability of critical services, reducing the impact of disruptions.

 

Business Resilience: High availability systems contribute to overall business resilience by enabling seamless continuity of operations, even in the face of failures or disruptions. This resilience helps maintain customer satisfaction, brand reputation, and revenue streams.

 

Scalability and Performance: High availability systems are often built on scalable architectures that can handle increasing workloads and user demands. They provide robust performance capabilities to support business growth and handle peak loads effectively.

 
Cons of High Availability
Cost: High availability systems can be costly to implement and maintain due to the requirement for redundant hardware and complex configurations. Investment in hardware, licensing, and specialized expertise may pose budgetary challenges for some businesses.

 

Complexity: Setting up and managing high availability systems can be complex, requiring specialized knowledge and skills. Proper configuration, continuous monitoring, and proactive maintenance are necessary to ensure optimal system performance.

 

Not a Substitute for Backup: While high availability systems protect against downtime, they do not replace the need for backup solutions. Data loss due to accidental deletion, corruption, or cyber-attacks can still occur, necessitating a comprehensive backup strategy.

 

Limited Data Copies: High availability systems typically maintain a limited number of redundant data copies. If all the copies are compromised or subject to the same failure, there is still a risk of data loss. Backup solutions with multiple copies and off-site storage provide an additional layer of protection.

 

Resource Utilization: High availability systems require additional hardware and resources to maintain redundancy, which can impact overall system performance. Organizations must carefully consider resource allocation and capacity planning to ensure smooth operations.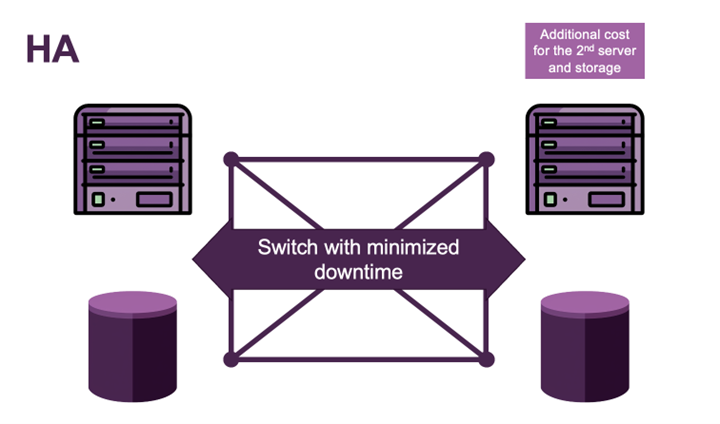 The choice between backup and High Availability depends on the specific RPO and RTO requirements of a business. RPO refers to the acceptable amount of data loss, while RTO represents the desired time it takes to recover from an incident. If a business has stringent RPO and RTO objectives, requiring minimal data loss and near-instantaneous recovery, a HA solution would be more suitable. HA systems offer rapid failover and continuous operations, ensuring minimal downtime and immediate access to services. 
However, for organizations with more flexible RPO and RTO requirements, backup solutions provide a cost-effective approach. Backups allow for more granular recovery options and the ability to restore data from various points in time, enabling businesses to recover from different types of incidents. Backup solutions are also advantageous for long-term data retention, compliance purposes, and safeguarding against scenarios where system-wide failures or simultaneous data corruption occur. 
Conclusion
When it comes to secure data protection, businesses must evaluate the advantages and limitations of backup and HA solutions. Backup solutions offer data recovery, historical data retention, cost-effectiveness, ransomware detection (like DPX GuardMode), and data archiving. However, they may involve recovery time and require significant storage space. On the other hand, HA minimizes downtime, ensures business resilience, offers scalability and performance benefits. However, it can be costly, complex to manage, not a substitute for backups, maintain limited data copies, and require careful resource utilization. 
To create a comprehensive data protection strategy, businesses should consider integrating both backup and HA solutions, tailoring them to their specific needs and priorities. This approach ensures a multi-layered defense against both system failures and data loss, enabling business continuity, mitigating risks, and safeguarding valuable data assets.