Get Ransomware Protection for Enterprise Backups with Backblaze B2 Cloud Storage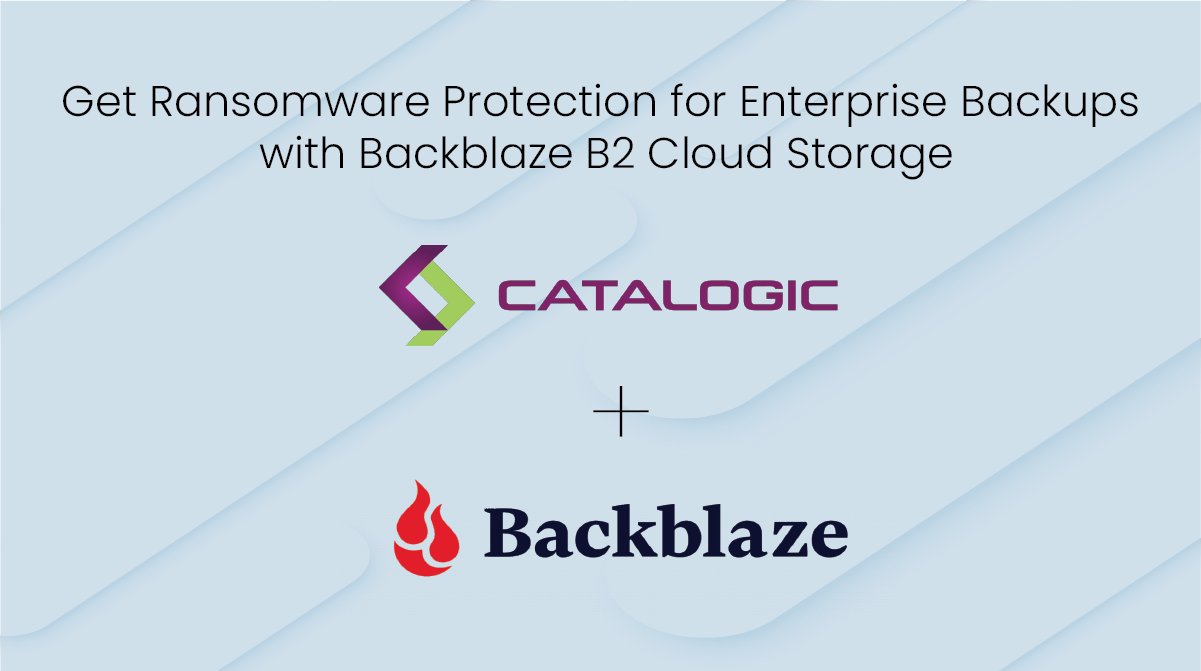 The importance of cloud object storage is growing increasingly every day. It is critical to have a solution that you can rely on that is scalable, secure, and affordable. Now, with ransomware proactively targeting and removing backup data, cloud storage is even more important for providing protection from ransomware for critical datasets like your backups. 
Catalogic is pleased to partner with Backblaze to create a robust data protection solution that provides our DPX customers with the flexibility and comfort that their backup datasets are safe and secure from ransomware, and always accessible for recovery and compliance. So, what is DPX, Backblaze B2 Cloud Storage, and how do they work together? Below we will discuss those points, some of the benefits of the two solutions and we will also show you a high-level overview of the solution as well. 

Catalogic DPX is an efficient and flexible all-purpose enterprise data protection solution for physical and virtual environments. DPX now offers seamless integration via S3 APIs with Backblaze B2 Cloud Storage to provide low cost, cloud storage for archiving block level and VMware agentless backups from DPX or for direct backup of filer data via NDMP (Network Data Management Protocol). 
Backblaze B2 Cloud Storage is high performance, S3 compatible, cloud object storage. Backblaze B2 is simple, reliable, and affordable, at a 75%+ lower cost than competitors. You can easily sign up for Backblaze B2 and get started.  
Why Use Backblaze B2 
Whether your business uses offsite or cloud storage for disaster recovery or not, you should be using air-gapped cloud storage for ransomware protection, as part of a 3-2-1 backup strategy. Backblaze B2 acts as a remotely located S3 cloud storage target that compliments on-site disk or tape for backups. This also provides a cost-effective, long-term storage solution for data that must remain under your control for compliance or data governance reasons. With built-in connectivity via the S3 API, Backblaze integrates as easily as connecting to any public cloud, and without any additional software required. 
If you are currently using S3 cloud storage and are ready to make a switch, Backblaze's cloud to cloud migration service has zero data migration and egress fees. If you are ready to migrate from using tape, see the LTO vs. B2 Cloud Storage calculator. 
How it Works 
DPX integrates seamlessly with Backblaze B2 Cloud Storage to provide a fast, secure, and virtually limitlessly scalable backup target. This is critical to accelerate and achieve recovery time and recovery point objectives (RTO and RPO) SLAs, from DPX agent-based server backups, agentless VM backups, or direct filer backups via NDMP. Instead of having to wait hours to days to recover data from a cloud, Backblaze guarantees no cold delays or speed premiums with a 99.9% uptime SLA.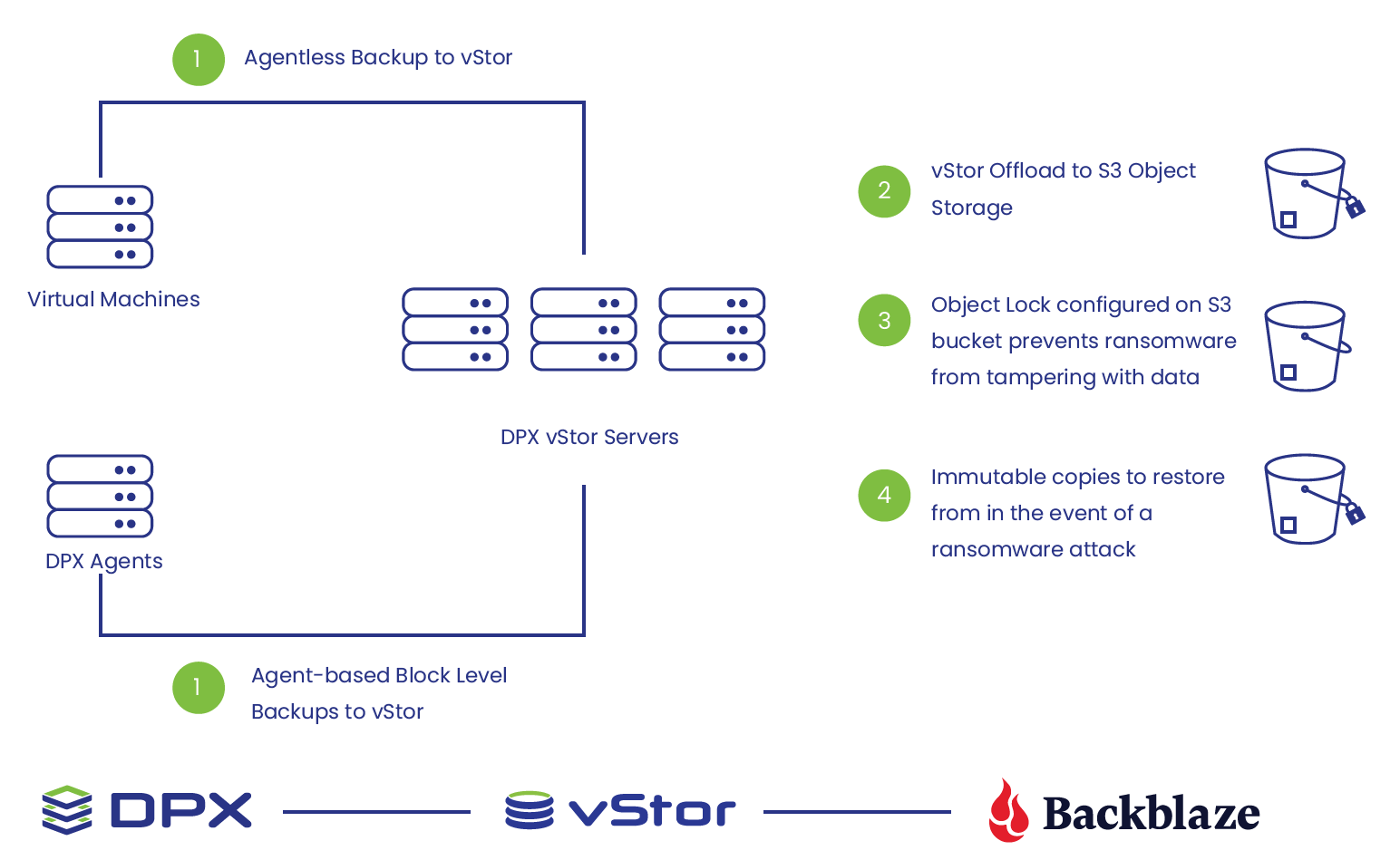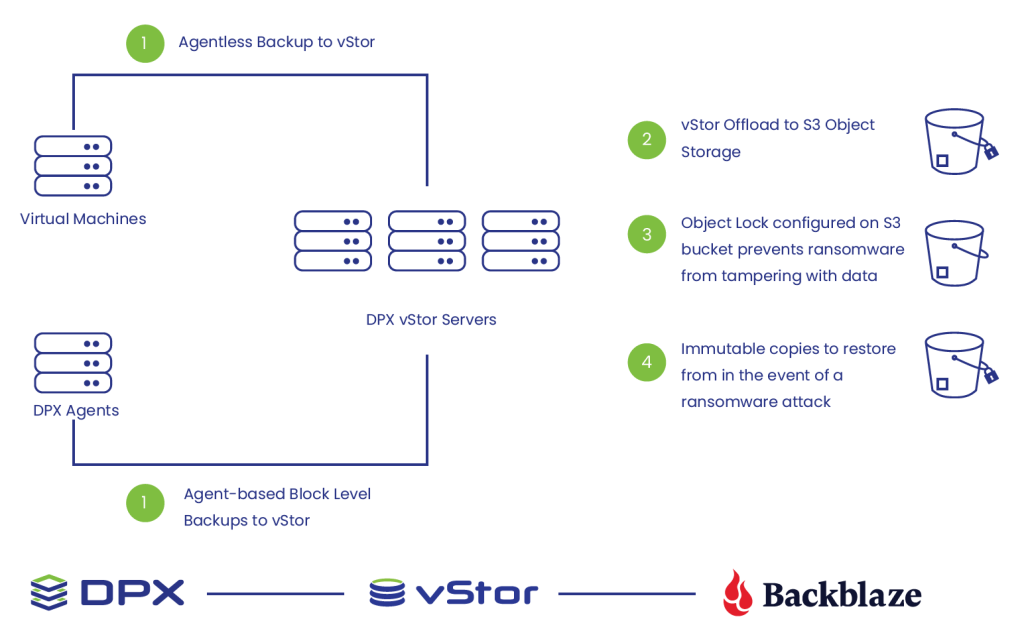 Catalogic DPX Archive to Backblaze B2 
To deliver immutability of the data being stored in Backblaze B2 Cloud Storage, DPX can enable S3 Object Lock on your S3 bucket to ensure your precious backup and archive data can never be deleted or overwritten, providing your business with a key extra layer of protection against ransomware and data loss. 
Your Next Steps   
To learn more, please join or watch on demand the Backblaze and Catalogic webinar entitled "Reduce Backup Costs and Increase Security with Catalogic and Backblaze" on Wednesday, March 23rd at 11 AM EDT. 
 
With cyber-attacks proactively targeting and removing backup data, do not wait to further protect your organization's backups from a ransomware attack. In all cases, it is not a matter of if, but when, an attack will occur. Stay safe by getting started now with the free VMware and Hyper-V backup promotion for Catalogic DPX, or with the free service plan of CloudCasa for Kubernetes backup and cloud-native applications.