DPX 4.9 Adds Proactive Ransomware Shield for Linux and Improves Quality of Alerts for Backup Admins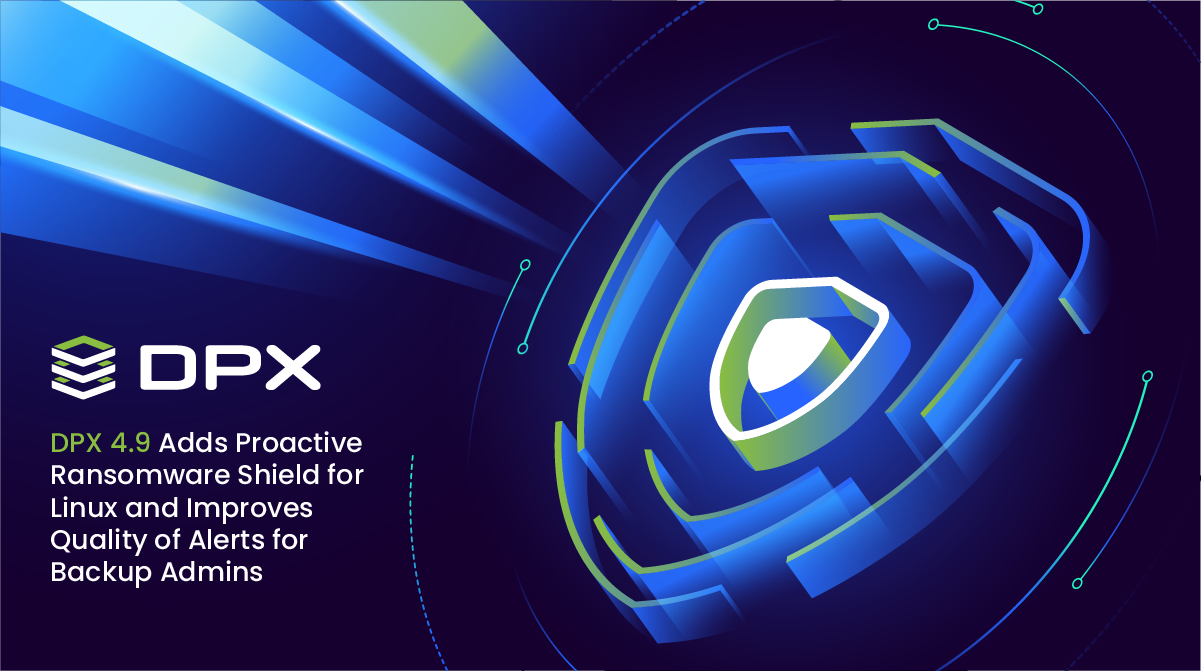 We are pleased to announce the release of Catalogic DPX 4.9, where we continue to build upon our commitment to providing one of the most cyber resilient data protection and backup coverage matrices for private, public, and hybrid-cloud environments. This release adds to our industry leading ransomware recovery and cyber resilience features by building on the DPX GuardMode for Windows capability made available in DPX 4.8.1.
GuardMode provides proactive monitoring for early detection and notification of suspicious activity along with identifying and enabling the recovery of any affected data. Before DPX 4.9, this feature was limited to Windows, but DPX 4.9 now offers GuardMode for Linux servers and Samba shares.  In addition, backup administrators can now benefit from increased quality of alerts, where GuardMode measures the level of file entropy and compares known magic signatures on files suspected to be impacted. GuardMode uses active, live forensic techniques instead of analyzing backup data that lags security incidents by several hours, days, and even weeks.
DPX 4.9 also delivered improvements to the web-based HTML UI, including support for Block Backup, Restore, and support for archival of those block-based backups. We also added several improvements to different DPX services, including reporting and event service monitoring.
We have also added several improvements to the use of DPX vStor in this release. This includes the ability to archive backup copies from a replicated vStor, multi-factor authentication, and an easier way to install vStor on a physical server.
And finally, DPX 4.9 includes many general improvements to existing DPX features. All new features of our DPX 4.9 product are listed below:
DPX Cyber Resilience
Adds a Linux ransomware detection agent with the ability to detect and notify an administrator of possible suspicious activity on the host. This is an upgrade to the already present Windows agent that adds a layer of ransomware detection and alerting to the DPX enterprise.
Encrypted Files Detection and Encryption Tracking
Adds an agent feature that detects encrypted files and tracks the encryption process to provide a list of affected files through a REST API. This allows administrators to improve their understanding of the infection scope as well as provides a list of affected files to restore.
Adds syslog as a notification target for notifications.  This allows administrators to plug in GuardMode agent notifications into their existing security event collection workflows (for example, into a SIEM solution.)
DPX Services
Support for Block Backup and Restore in HTML UI
Adds the option of scheduling Block Backups and all corresponding restore options (File Restore, Instant Access Mapping, Backup Virtualization, Application) to HTML UI.  Now, the user can run block backup and restore workloads without relying on the Java GUI by using the HTML UI or REST API, which is faster and opens up new automation or integrations possibility.
Support for Double Protection for Block Backup
Adds option of Double Protection in the HTML UI. The Administrator can now configure Double Protection (Archiving) via the HTML UI more responsively and intuitively. REST APIs are available for this feature as well.
Adds the ability to generate PDF versions of the reports, scheduling of reports, and the option to send them via email. Also introduces a new report for 24-hour job status overview.
Event Service Improvements
Adds more Master Server events to be received by the DPX event service. This allows an administrator to configure granular email notifications for more types of events from DPX services, including backup jobs, status changes and more.
Appliance Operating System Update to Alma Linux 8.7
Migrated the appliance operating system to a downstream Linux distribution from Red Hat and upgraded to a current release.
DPX Core 
Archive from Alternate/Replicated DPX vStor
Adds the ability to archive from a replicated vStor.  This allows the Administrator the flexibility to configure backup to a primary DPX vStor at a branch office then replicate to a central site vStor, and to also archive data from the secondary vStor to Cloud/Tape/DiskDirectory, and then restore to any location.
Microsoft Azure Blob and Alibaba Object Storage support
Adds Microsoft Azure Blob and Alibaba Object Storage support as Archive/NDMP cloud targets.
Catalog Condense Improvements
Catalog Condense now cleans up Cloud and DiskDirectory storage.
Integrating DPX Core Services to Linux systemd Service Manager
Uses systemd to manage cmagent/nibbler services on RedHat/CentOS 7.6+ and SUSE 12+.
Adding New Platforms for Agentless VMware Backup Proxies
Support RHEL, CentOS, OEL, and AlmaLinux 8.0~8.3 as proxy nodes for Agentless VMware backup.
New BMR ISO for Linux kernel v4.18
New Linux BMR ISO to support Linux kernel v4.18.
DPX vStor – Software-Defined Backup Appliance
Adds a Multi-Factor Authentication (MFA) to both UI and console access.
Password Reset Improvements
Adds the ability to reset password on HTML UI.
Physical Installation ISO
Creates ISO installation image that can be used to install vStor on physical appliances.
Summary
For further information on DPX 4.9, see the What's New in DPX 4.9 document and other resources on the DPX products page. Customers with support can access more detailed information in the release notes on the Support page.  For more information on Microsoft 365 and Open VM backups, please see DPX vPlus.
Whether it is ransomware attacks, human error or IT outages, every business needs an affordable and reliable data protection solution like Catalogic DPX to backup and instantly recover data to ensure business continuity. Have a question or want a live demo? Contact us today!