DPX vPlus 5.2 Expands Cloud Backup Coverage to Azure and Google Clouds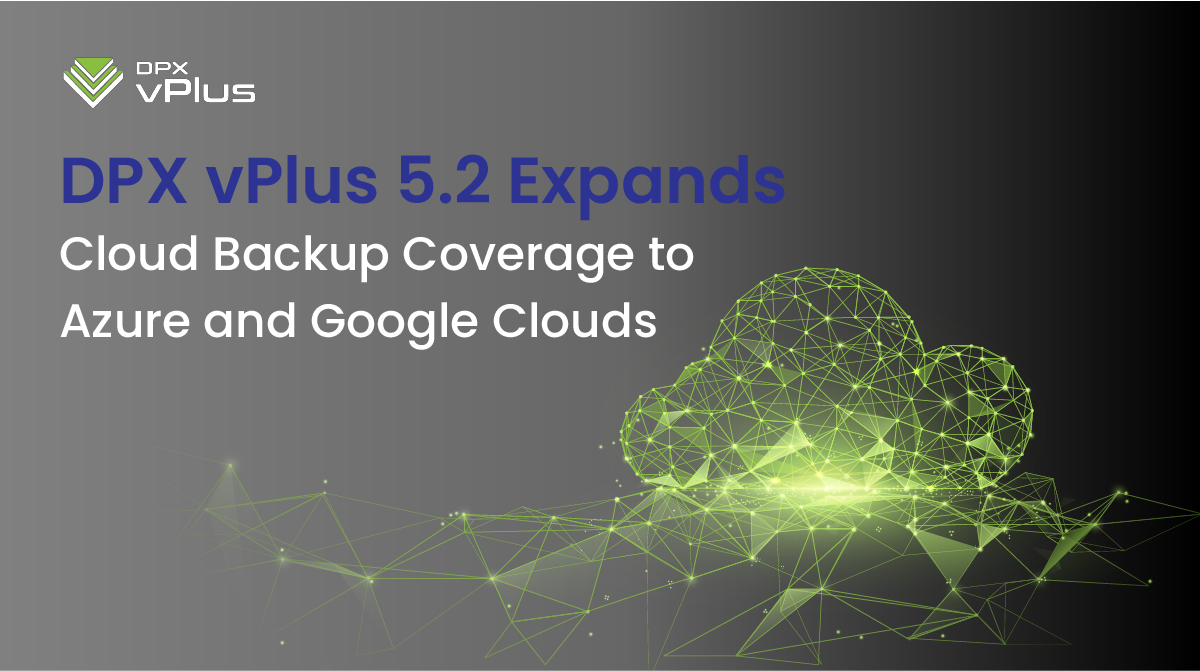 We are pleased to announce the latest release of Catalogic DPX vPlus, that expands cloud backup coverage and provides Microsoft 365 backup enhancements to provide unparalleled flexibility in designing and implementing data protection strategies. Known for its robust integration capabilities, DPX vPlus supports backup and recovery for dozens of virtual environments, containers, cloud environments, storage providers and applications.
In previous releases, DPX vPlus for Open VMs customers gained AWS EC2 backup and vPlus 5.2 continues this focus on cloud backup by supporting for Azure backup, Azure Stack HCI backup, and Google Cloud Platform (GCP) backup.
vPlus 5.2 also added support for Virtuozzo Hypervisor backup with the direct access via SSH (both full and incremental hypervisor backups are supported).
A few points about backup storage destinations: storage configuration customization during the restore feature is now available for KVM, Virtuozzo, and Huawei Fusion Compute station. Also, incremental backup capability for the OpenStack environments has been added, and it is also supported in the Disk Attachment backup strategy with just cinder being used.
If you are using DPX vPlus for Microsoft 365 backup, there are some improvements for you too. Microsoft 365 users now have the option to restore contacts and calendars in vCard and iCalc formats. Also, you may have noticed that Microsoft recently updated their Teams API which caused some connection issues with earlier versions of vPlus. This is no longer the case, as this has been fixed.
vPlus 5.2 also introduces a new CLI which supports new syntax and bash completion – it is available side by side with the old one, as a technical preview, until it is finalized in the next release.
And last but not least, vPlus 5.2 added support for CentOS Stream 9 as the supported OS on which you can deploy DPX vPlus.
A full list of the new vPlus backup features and improvements are found below:
Virtual Environments Backup and Recovery
Virtuozzo Hypervisor
Azure Cloud
Azure Stack HCI
Google Cloud Platform (GCP)
Installation on RHEL/Centos Stream 9
Storage customization during restore for KVM (standalone), Virtuozzo and Huawei FusionCompute
Support for Red Hat OpenShift API for Data Protection (OADP)
OpenStack incremental backup using Disk Attachment (cinder) strategy
Restore individual disk to datastore (Citrix, Hyper-V, Nutanix AHV)
DPX vPlus User Interface Improvements
Backup/restore transfer rate charts
Command line interface (CLI) v2 – technical preview
Multi-select filter for virtual machines list
Restore window using a wizard
Initial configuration wizard enhancements
Support for Polish Language in WebUI 
Microsoft 365  Backup Improvements
Download contacts and calendars in vCard and iCalc format
Support for Microsoft Teams API
Major performance improvements in task processing
Other vPlus Backup Improvements
Mandatory cleanup of the import directory from a staging area
Option to define schedules and policies with the same name
Summary
DPX vPlus continues to introduce useful features that truly improve data protection processes, automate backup and restore tasks, and ensure the highest standards of reliability.  No matter if you manage virtual environments based on open, commercial, or mixed solutions, Azure or GCP, or Microsoft 365 data, vPlus supports all of them under one backup license.
For further information on vPlus, take a look at the resources on our vPlus product page. Customers with support can access more detailed information on release notes on the Support page.  If you want to give vPlus a try, want to see a live demo, or have a question about the product, Contact us today!