Catalogic DPX is Not Backing off from Commitment to Micro Focus OES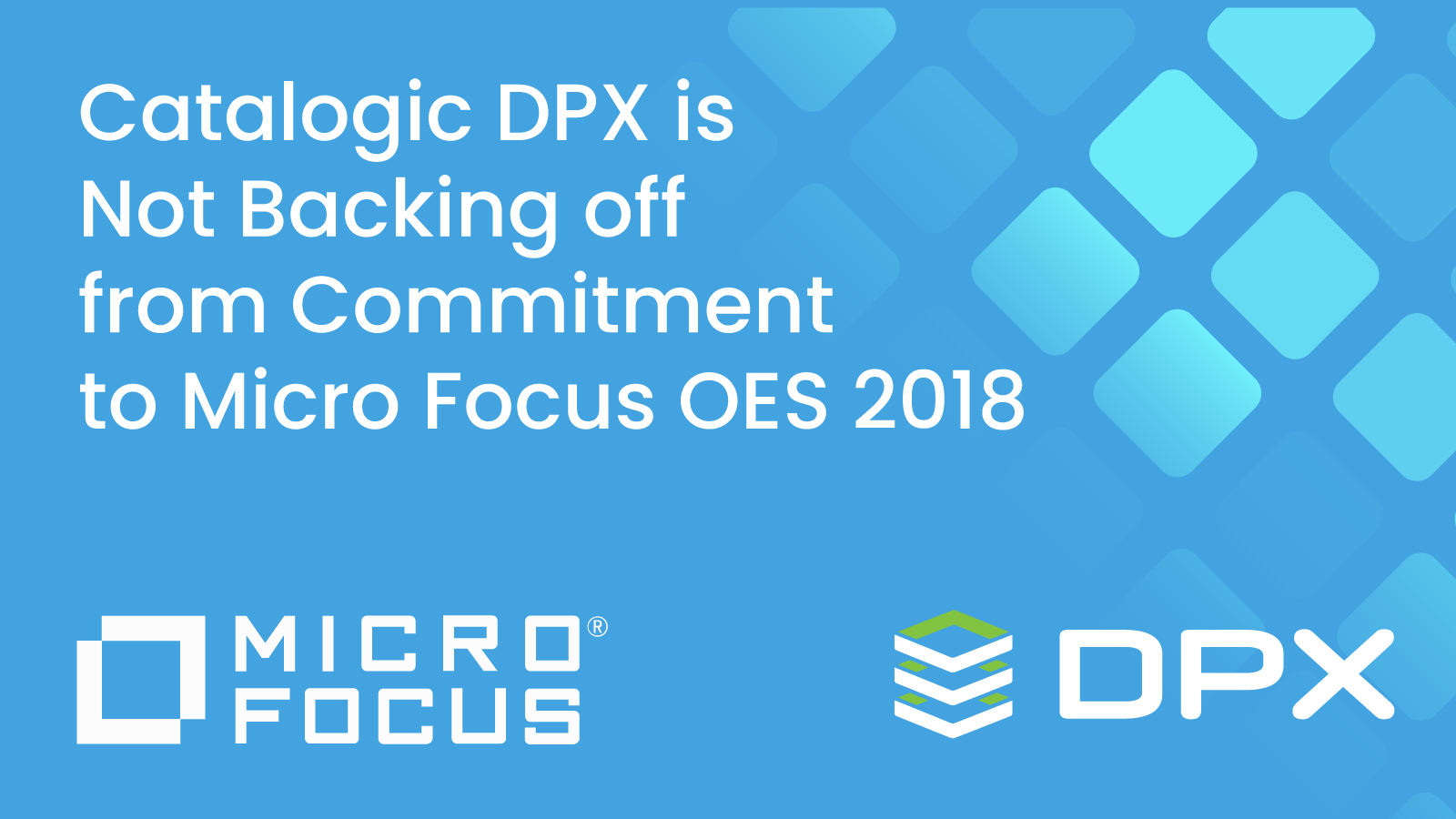 History of Novell Open Enterprise Server
In early 2005, Novell, since then acquired by Micro Focus, made a splash in the Linux pool with their Open Enterprise Server (OES) product. Based initially on Netware and SUSE Linux Enterprise Server (SLES) and later just on SLES, Micro Focus OES is an enterprise-scale server operating system that provides essential shared services, including networked storage, file and print services, identity management, and network connectivity for Windows, Mac, and Linux client devices.
Protecting Micro Focus OES Environments
Now, as you would expect, where Micro Focus OES is a large part of an organization's shared network services and computing environment, it is a critical part of IT infrastructure. So much so that if services were to go off-line for whatever reason, your users would be out of commission. With that in mind, it is crucial that the data stored in your OES environment be backed up and protected.
Over the years, a wide variety of data protection vendors have provided adequate Micro Focus OES backup and recovery. OES users had some options when it came to choosing a backup provider. However, as time has gone on, those same vendors have slowly moved on from the Novell family of products, leaving many OES customers with no way to protect their data.
Catalogic DPX and Micro Focus Backup Partnership
Catalogic Software is not one of those data protection vendors that backing off from OES backup. Catalogic DPX has provided industry-leading Novell OES backup and recovery for Novell products since 1997, and we even pioneered many data protection features such as OES cluster-support and deep GroupWise integration for Groupwise backup. Unlike many other vendors, we have never backed away from our commitment to the Novell family of products, even after the acquisition by Micro Focus.
DPX Cluster-level support for OES Backup
DPX provides intelligent data protection for OES, which begins with being cluster-aware. This means that by using a virtual node concept, where all individual server nodes are represented together as a single entity, DPX can ensure that data is not backed up twice (from two different nodes in the cluster). Suppose a cluster node fails during the backup of a shared resource. In that case, DPX continues to execute the backup by switching the task to the failover node, ensuring that critical infrastructure information is always protected.
In Figure 1, the virtual node is labeled as a "cluster." The item "V1" represents the shared resource. Objects oes-lx-c1, oes-lx-C2, and oes-lx-C3 are the server nodes in the cluster.
When it comes to recovery, the restoration of OES data is simplified. The user needs only to select the virtual server object, and DPX is smart enough to restore the correct volume. The operator doesn't need to know the data source or which node performed the backup; this avoids confusion and ensures a quicker, trouble-free recovery process.
Figure 1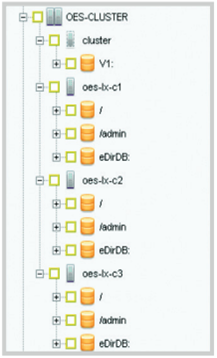 DPX support for Linux and NSS File System, eDirectory, and More
DPX supports full, incremental, and differential backups, which can be targeted at the volume, directory, or individual file level. Files can be restored with security and metadata and file-attributes / trustee rights still intact.
DPX Supports the following for OES backup:
Cluster configuration OES
GroupWise environments
Backup of standalone and shared NSS volumes,
Backup of eDirectory, etc.
In Figure 2, you can see the layout for the DPX GroupWise environment:
(Po) shows Post Office resources
(Dom) shows Domain Objects
(DMS) Document Management Systems Library
Other objects can include Binary Large Objects (blb) and even (TMP), which are any other directories referenced by /HOME flags
DPX has its software-defined storage repository called vStor that can act as a disk directory for your OES backups. DPX vStor performs deduplication and compression so that your storage is maximized, as well as replication to another backup node for redundancy and disaster recovery. Backup data can be archived to cloud or tape for long-term retention.
Figure 2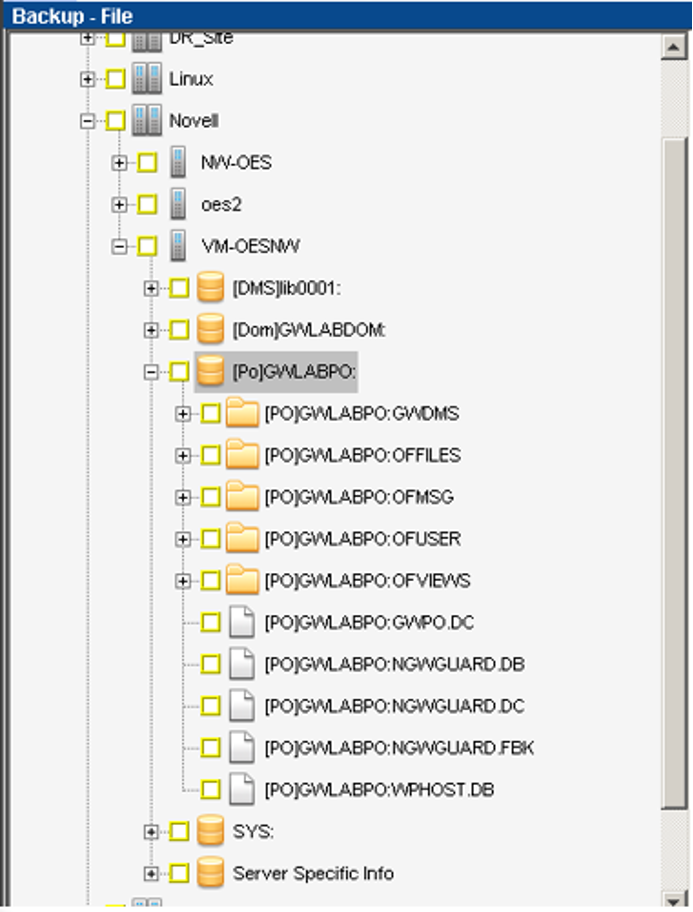 Conclusion
As you can see, the backup and recovery of your Micro Focus OES 2018 infrastructure are fully supported by Catalogic. If the recovery is as severe as a massive hardware failure, or a server failure in a multi-server OES cluster, or something less critical like post office corruption, individual email messages lost, or a user account deleted, having the ability to quickly and easily recover that information is incredibly important.
Whether you are just starting your search for a Micro Focus OES backup or Novell OES backup vendor, or if your existing backup vendor is no longer supporting OES backups, Catalogic is an excellent and cost-effective alternative. We have been committed to our partnership with Micro Focus since the beginning, and we will continue to be there to protect your data for the long term.
If you would like to learn more about Catalogic DPX, you can request a live demo or even get a 30-day trial copy to try it for yourself. We'll be happy to help you set things up.