Dramatically Reduce IT Time With Copy Data Management and Increase Pure Storage Utilization
During a past live webinar, industry analyst
Randy Kerns from Evaluator Group
presented "The Case for Copy Data Management" tools based on economics and automation, and Sathya Sankaran, COO of Catalogic Software, presented how Catalogic ECX fills this copy data management and automation gap and adds application awareness to Pure Storage.
The Case for Copy Data Management
As a senior industry analyst, Randy Kerns advises many IT end-user clients on data management architectures and solutions. During this webinar, Randy explains that the most prominent struggle he comes across with his clients is managing data, which he calls their "informational asset." The struggle is that there is an abundance of data and without automation for managing that data, it becomes out of control very quickly and more difficult to manage.
One of the bigger factors in the past year is that there has been a larger focus from organizations on IT transformation and how to change their service delivery model. That has left the focus on managing data as a background initiative, yet it remains as a significant problem. A common initiative is to tier data to a different cost storage, including:
Use of object storage,
Automation for data movement, and
Change in data protection.
Ultimately, managing data comes down to economics. There is not enough time or people to continue to manage storage and data in the way that it's been done in the past. If you can't get more people or some type of automation around it, you have to do something differently. Starting to track where time is spent is important for organizations, given managing data is expensive time. It takes someone who really understands infrastructure, the applications, and the value of data to reduce expenses which is hard to come by.
Catalogic ECX is a solution to deliver data management with major economic benefits. Paired with Pure Storage, ECX enables customers to have an advanced data management solution with no additional hardware required given Pure Storage is the golden copy.
Looking at administration cost and how you can manage more with the same amount or fewer people is another focus for many organizations. Managing data at scale is overwhelming for administrators:
Economic issue for time required by administrators
Operation breaks at some point
The answer for IT Operations has been to utilize intelligent and effective automation to allow administrators to manage more data. Automating management of snapshot copies of data or Copy Data Management (CDM) has a high-value return. It allows you to automate creation and use of snapshots, clones, and replicas. By utilizing Pure Storage snapshot services, deduplication, and data compression, CDM solutions dramatically reduce IT time spent on copy management and the amount of data to further control copy costs. This removes a significant burden from administrators, enabling greater scaling and reduced risk.
How Catalogic ECX Fills the CDM Gap for Pure Storage
Next in the webinar Sathya Sankaran reviewed how Pure's customers deploy Catalogic ECX for database and VMware snapshot orchestration, replication, cloning and offload to cloud.  ECX saves IT staff time and increases storage utilization on Pure FlashArrays to reduce total cost of ownership (TCO).
Given the attendees included both Pure end-users and Pure sellers, Sathya summarized with a top 5 list for both, as follows.
The Top 5 reasons for Pure customers to use Catalogic ECX:
Delivers immediate, additional value from your Pure investment
Dramatically saves IT time managing copies including self-service access to reduce TCO
Meet business automation demands for Test/Dev, DevOps, DR testing, reporting & analytics,
Catalogs and manages all your snapshots, and orchestrates and automates data movement
Integrates with VMware, Oracle, SAP Hana, & Microsoft SQL Server
In addition, the Top 5 reasons Pure accounts teams and resellers to use Catalogic ECX:
Supports new business initiatives and use cases for clients
Reduces TCO – one tool for management and automation that supports all applications
Accelerates testing, deployment cycle, and time to value
Snaps on Pure Stay on Pure – no additional hardware required
Supports Pure pricing model and new Pure DR, cloud, and ransomware features
Webinar Polling Response
 During the webinar, we ask several polling questions of the audience, and this question on array offload target showed the increasing use of Pure FlashBlade as an offload target.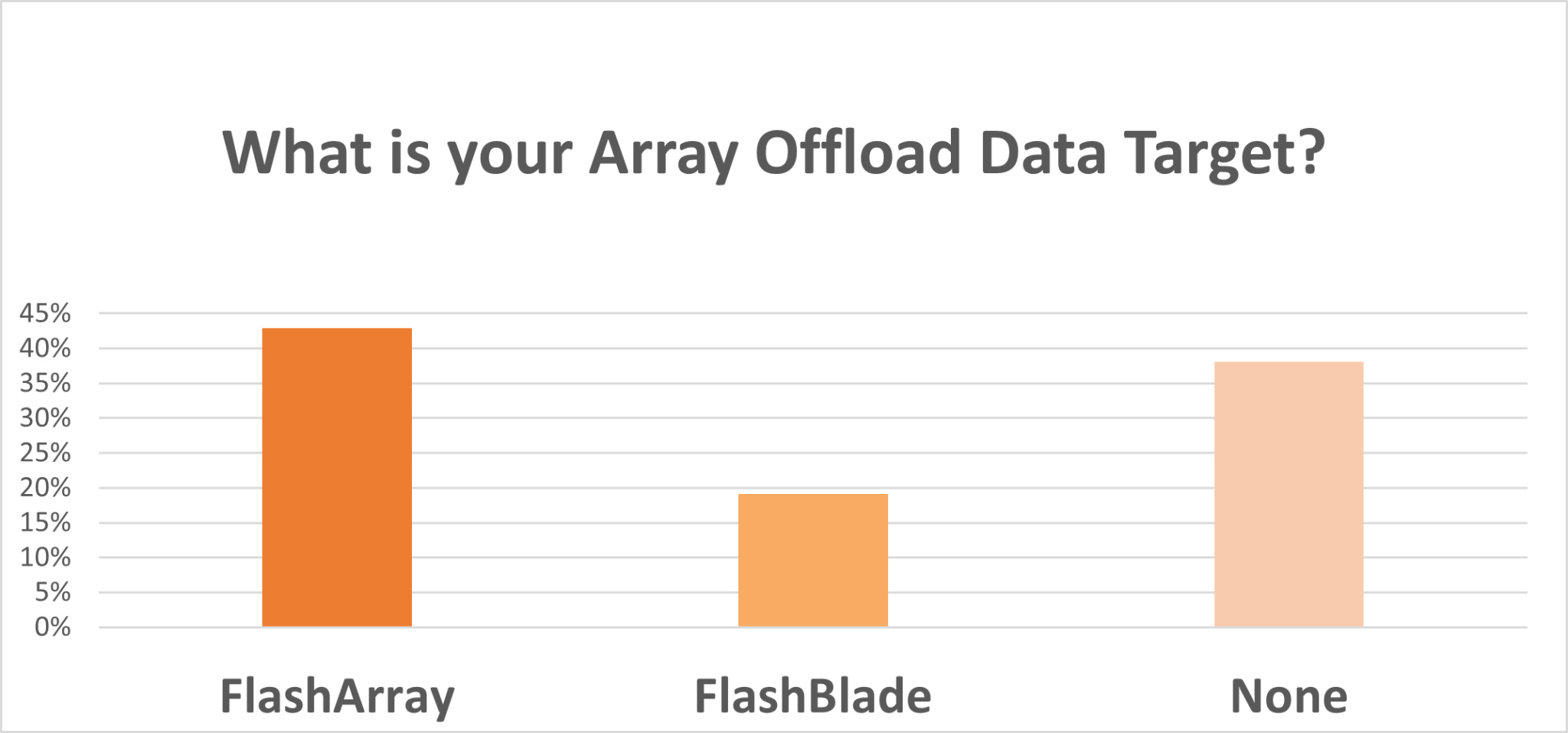 Catalogic is currently running a limited time promotion for Pure customers that provides a free offload target license for ECX for Pure FlashArray //C, FlashBlade, and Cloud Block Store.
Contact us
to learn more about this "License the Source Array and get the Target for FREE" promotion.
Webinar Q&A
 At the end of the webinar and time permitting, we address audience questions.
How is Catalogic ECX licensed? – ECX is licensed by array type with "T-shirt sizes" so prices vary according to array size using a subscription model. As you can see with our free offload target program, we want you to license all of your managed arrays. Under the promotion, only the primary array is licensed, and the target arrays are available for free, and the standard process is once the array is licensed, all ECX features become available to you.
How does recovery work for a database when restoring from a Pure FlashBlade? – ECX uses the snap to NFS capability so essentially all snaps to FlashBlade can be restored. When you run a restore, ECX checks for a local array copy if available, if not then it restores the data from your NFS target, the FlashBlade in this case. ECX orchestrates the movement leaving the data movement responsibility to the storage array. That allows ECX to use Pure's compression to restore the minimum amount of data that is needed, if available.
Webinar Replay
If you missed the webinar with this great content on why you need copy data management and how it benefits Pure's customers, please watch the recording here.  If your question didn't get answered or you would like to ask Randy or Sathya additional questions or would like a copy of the presentation, please contact us by form or email.