Catalogic ECX and Pure Flash ahhhhhrrays saviour of the data management universe
Here at Catalogic software we love to make architects, administrators, developers and managers lives simpler.
We know storage management can be a pain and more often than not the investment made in the storage isn't being fully utilised because you can't consume all of the cool features and functions without one of the team creating some complex scripts to get the most out of it.
That's the reason we believe all organisations running Pure Storage should have Catalogic ECX for snapshot automation and orchestration.
The core focus for us with ECX is delivering a simple and efficient architecture to enable snapshot automation and orchestration.
We do that for Pure Storage via integrating using the Pure Storage Rest API. This means you get all the goodness of Pure's snapshot engine and we simply act as the brain cataloging the metadata, orchestrating the snapshots and enabling the instant recoveries back onto the FlashArrays.
We do not store data on a separate dedicted proprietary storage appliance like some vendors do in this space. We disagree with this approach as we are software defined and requiring a separate dedicted proprietary storage appliance increases timescales to move data, increases complexity in terms of architecture and needs a bigger budget for additional external storage arrays and the cost to implement and manage these.
With Catalogic ECX we deliver the following 5 key benefits for Pure Flash arrays:
Software only Copy Data Management capabilities that deliver additional value from your Pure investment that is deployed in minutes
Integration with leading hypervisors and applications such as VMware, Oracle, SAP HANA and SQL to provide data owners with instant data access
Instant data copies for value use cases such as Test/Dev, DR testing, Reporting, DevOps, Analytics and Patching
Increased ROI from Pure storage platform
Orchestration and automation of data between Pure devices – FlashArray, Cloud Block Store and FlashBlade
Whilst primary copy data management on Pure Flash Ahhhhhrays (sorry I will stop it now
😊
) is our bread and butter we also have some strong use cases and benefits around offloading to FlashArray//C, Cloud Block Store and FlashBlade.
Let's take a look at those in a bit more detail here.
Offload to FlashArray//C with ECX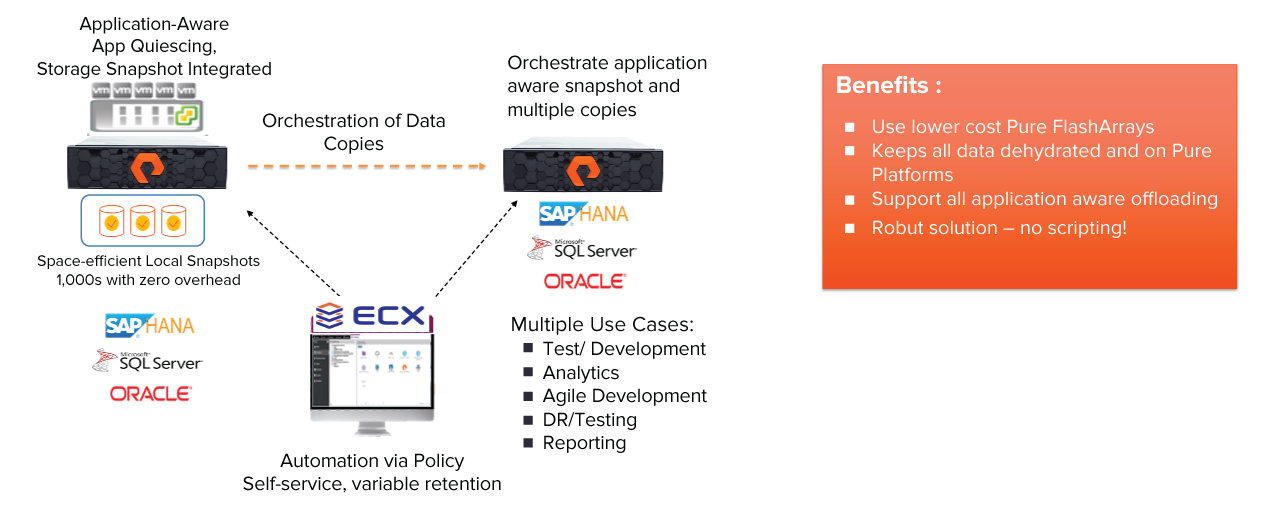 Offload to Cloud Block Store with ECX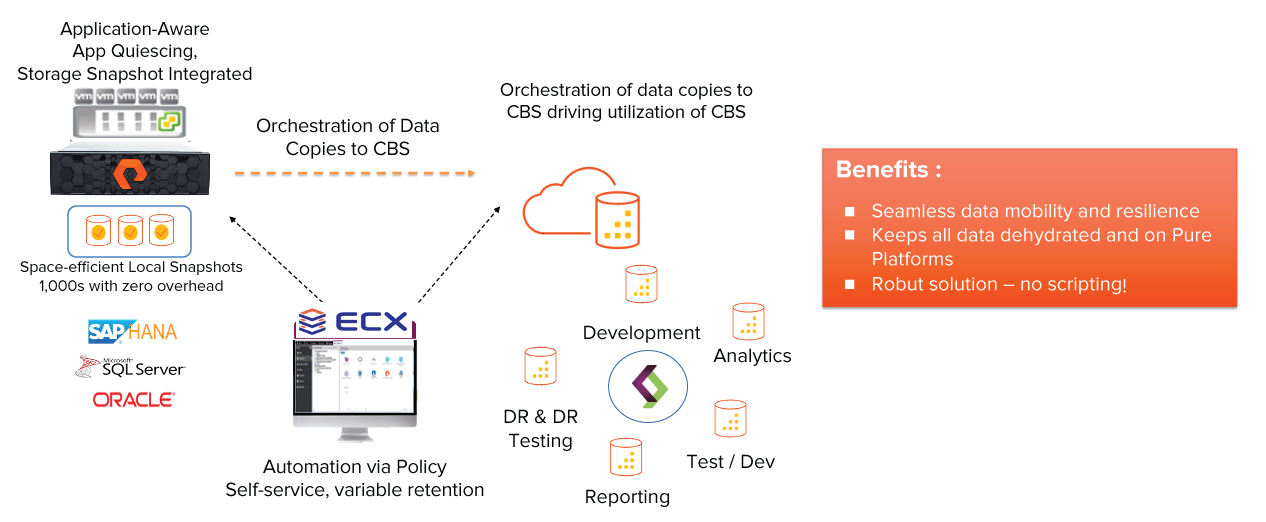 Offload to Cloud Block Store with ECX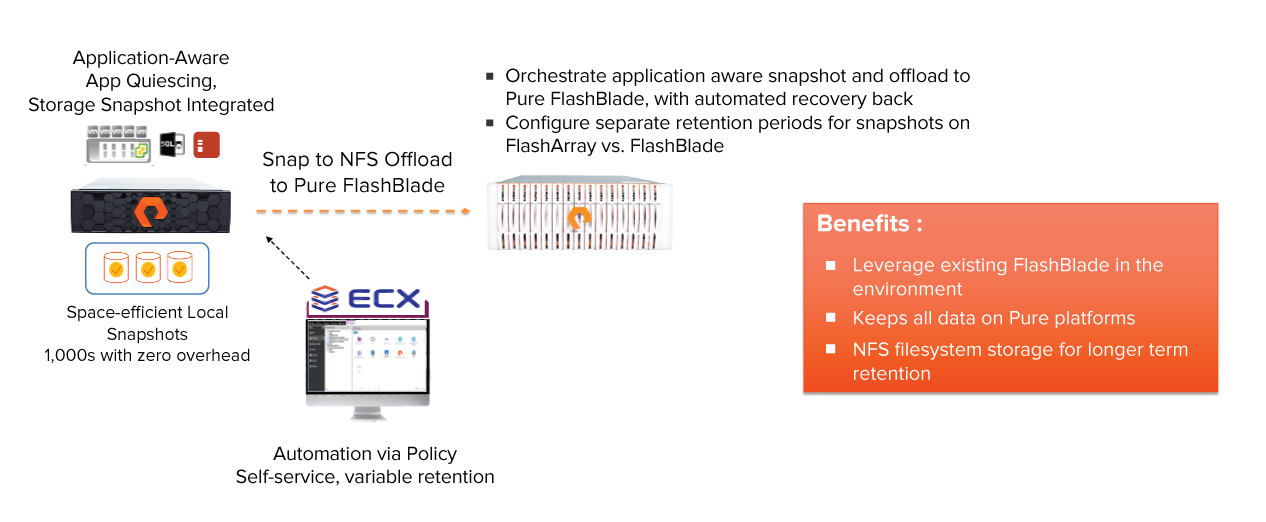 Pretty neat eh! But wait here's the best bit ….
We currently have a special offer running where for FlashArray//C, Cloud Block Store and FlashBlade when you license the source you get the target for FREE. Meaning a free UNLIMITED CAPACITY ECX license for for FlashArray//C, FlashBlade and Cloud Block Store with any ECX License purchase for Pure Storage FlashArrays. This promotion is currently active until the 30th April 2021.
On a different note Pure Storage made some very cool enhancements to Purity for FlashBlade in 2020 one of the game changers for me being the addition of SafeMode snapshots that enables write protection of snapshots until their expiration date.
This assists in ensuring snapshots are protected from ransomware and mitigates risk when using Pure FlashBlade systems. Sadly ransomware is an ever growing challenge for IT departments and all teams should ensure they have a multi-layered approach to defence and the addition of SafeMode snapshots from Pure Storage is a key layer to ensuring your data sat within snapshots are protected from ransomware. The good news is Catalogic ECX will soon support orchestrating SafeMode snapshots and Catalogic to ensure your snapshots are safeguarded. Thanks for reading and if you want to learn more about any of the topics discussed in this blogpost how you can use please do get in touch with me via wbush@catalogicsoftware.com Until the next time stay safe and take care everyone.