Backup Your Open Virtual Machines and Clouds with vProtect 4.2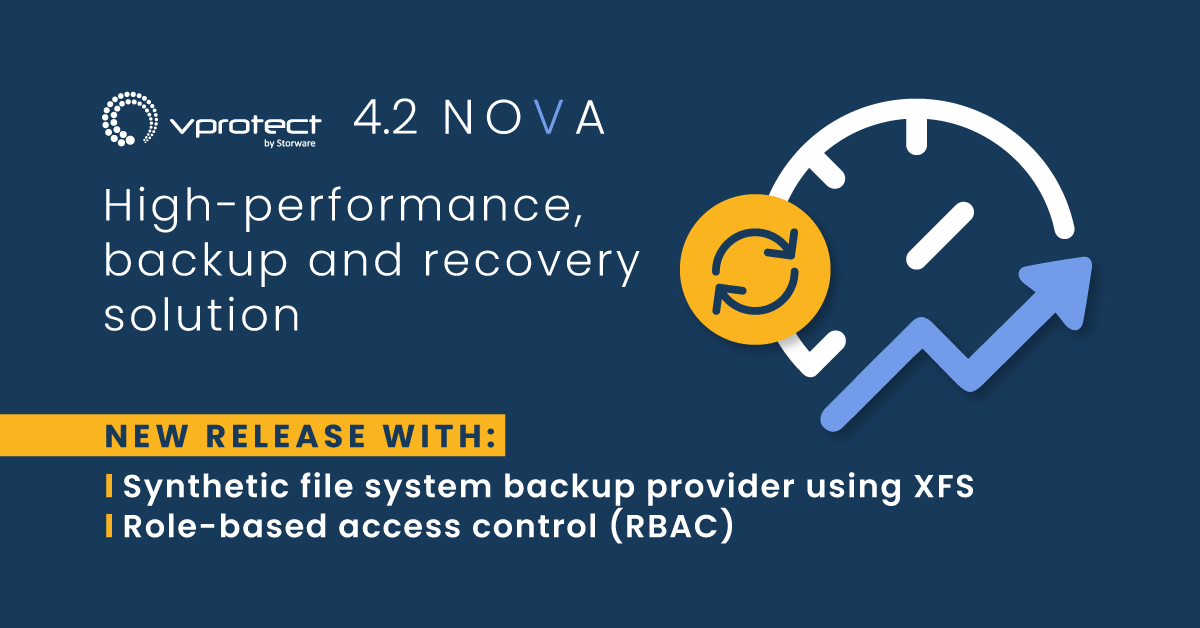 As we near the summer months, when most development teams take the foot off the gas and coast through the vacation season, Storware just keeps pumping out new releases for vProtect.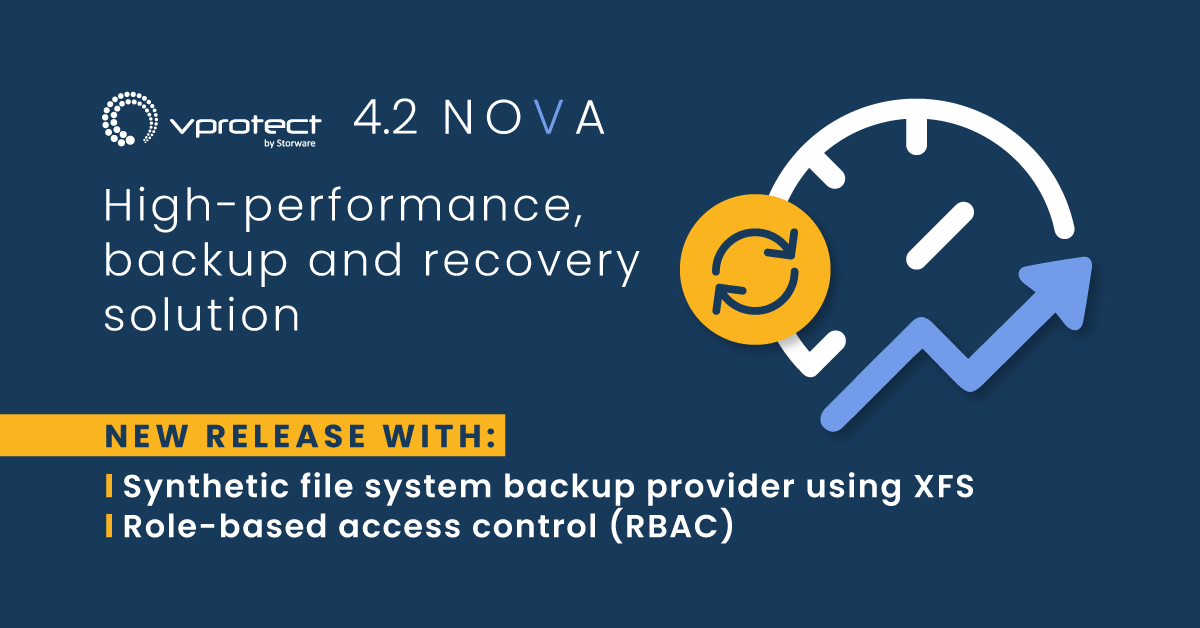 vProtect is a backup and recovery solution for modern workloads that provides agentless data protection services for Open VM environments, virtual environments built on VMware and Hyper V, containers like Kubernetes, storage providers (Ceph RBD, Nutanix Files, file system), and applications running on-prem and in the cloud. vProtect can function as a standalone solution or integrate with enterprise backup software.
Hot on the heels of its previous release that included support for the protection of storage providers, like Ceph RBD, vProtect 4.2 adds a synthetic backup provider based on XFS, allowing incremental-forever backups and significantly faster restores. This release also introduces granular RBAC system-level roles that allow administrators more control over vProtect security.  By defining user groups and roles, RBAC enables administrators to specify which actions and views are accessible to users by using pre-defined, built-in roles or customizing their own.
For oVirt/Red Hat Virtualization/Oracle Linux Virtualization Manager distributions, two new transfer optimizations have been added: BZIP2 compression when using SSH transfer method and direct transfers to/from hypervisors in Disk Image transfer method.  Both of these improvements result in even faster backups. Additionally, for these environments vProtect received the option to easily configure metadata DB backups directly from the hypervisor manager's section.
vProtect version 4.2 also added snapshot-management for Ceph RBD Storage Provider and SMB support for Nutanix Files. Finally, to improve system performance visibility, the management interface received additional notifications related to VDO space occupancy, transfer rate charts, and inventory synchronization statuses.
vProtect 4.2 key highlights at a glance:
Synthetic file system backup provider using XFS
RBAC – system-level roles and user groups
Storage Providers – Nutanix Files – SMB shares support
Web UI – transfer rate charts
Hyper-V multithreaded import during a restore
Did you miss our live webinar? –  Add Modern Data Protection for Open Virtual Machines & Clouds to your Enterprise Backup – Pawel Maczka, CTO at Storware and Brian Sietsma, Solutions Architect at Catalogic Software, discussed the new updates in the latest version release of vProtect 4.2. Watch it on-demand!
If you have any questions, please feel free to contact us. To view more vProtect features, check our website. We would be happy to answer any of your questions and provide you with more information.